Below are Customer Reviews received regarding the Ask the Builder Store and the Ask the Builder products. The reviews cover the following subjects. Just click on the topic to read that review. Or just scroll down below the listing to read the latest customer reviews.
"Hi Stain Solver Team, just wanted you to know how pleased I am with my Stain Solver. I have spent more money than I care to tell you about trying to clean the grout in my house. Decided to take a chance on your product, and was pleasantly surprised when it actually worked. Thank you a million times, you all really made my day." -

Rose Trimpey

---

"I'm not one to write testimonials very often but I just discovered

Stain Solver

as an amazing laundry aid. I bought

Stain Solver

a couple years ago to clean my deck with great results. While the container has instructions for laundry, it didn't register with me that it could do more than other laundry cleaners.

However, after red candle wax spilled on my white linen tablecloth at Christmas, I took the usual steps to remove the wax but was left with stains from the red dye. I tried a pre-wash spray and longer washing cycle but the stain remained so it was off to the internet for a better solution. I happened upon a remedy to remove wax dye recommended by a long-time English Ladies Maid - oxygen bleach. I was thrilled I still had some

Stain Solver

and right there on the back were laundry instructions.

After soaking for two hours in the basic laundry solution amount I could still see the stain so I left it overnight. By morning, the wax stain was 100% gone. Now a believer, I wondered if it could help 8 of my white linen napkins with Curry/Turmeric stains from an Indian dinner I had 11 years ago.

I'd tried everything (I thought) possible at the time and over the years with no success so I had low expectations but nothing to lose. The results with

Stain Solver

are why I'm writing. After soaking the napkins in the recommended mixture for "Fabric Rejuvenation" for a period of 8 hours – ALL of the Turmeric stains and other minor blemishes are gone!!!

I am completely astounded

Stain Solver

removed 11 year old stains from linen that's been hot washed, sprayed, (chlorine) bleached and ironed multiple times. There is one mark left, on one napkin, from an un-remembered incident and may be a scorch mark, so it remains soaking, but it's better than it was and the remaining 7 are 100% like new. A linen tablecloth and 12 napkins took 1+ bottles of "pre-treatment" spray with lessor results so I believe it will be better results for less $ in the future also.

Thanks for a great product. I'm really impressed and ready for my next dinner!

Regards," -

Jill L., Minneapolis, MN




---

I am writing to thank you and to say your Stain Solver is one great product!

Our white tile/white grout laundry room floor has had heavy use over the years, including a couple of minor floods from a leaking boiler and an old hot water heater. Despite scrubbing with baking soda and vinegar, the grout remained an ugly yellow.

I had purchased Stain Solver two years ago, stored it in an unheated Michigan garage (unopened), and forgot I had it. Just got it out this month, and even though the product label cautioned that the viability may not be as strong due to age, I went ahead and tried it. I followed the directions, and after waiting a half hour, got down on my hands and knees and gave the grout a moderate scrubbing with a stiff brush. Rinsed several times with clean water, and what an INCREDIBLE difference. To tell the truth, I was not expecting sparkling bright white grout and was thrilled with the results! Our laundry room floor looks brand new. The bonus was I never had an issue with "chemical" odors, never once coughed or experienced any skin reactions when using this product.

With a minimal amount of scrubbing and rinsing, your Stain Solver does what it says. Thank you, Tim!

Sincerely, " - Karen B. - MI

---

What a wonderful product. I just wanted to share some photos showing what a great job Stain Solver does on cat puke. Earlier this evening my cat did this (left image @ 7:37 PM).

After using a towel to remove some of the problem, I made up a solution of Stain Solver and cleaned the area. (right image @ 7:41).
I don't know what our house would look like without it.
---

Want to see what Stain Solver will do for an office chair with a peanut butter & jelly sandwich on it? Click here to read Cindy Badon's story, complete with before and after pictures.
---
"Thanks for the Stain Solver. I cleaned my 7-year old western red cedar and it looks great. Lots of mildew, but now it is clean. Please use the photo on your site." - Steve T., Berkeley, CA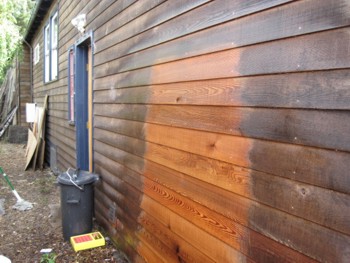 ---
Received these photos of a great fishing cabin in Oregon. The photo on the right shows before and after cleaning the deck.

"Here are some photos of the finished deck using Stain Solver and Defy Extreme Cedar tone. It looks great. This deck was originally installed in 1994."
-

Ron C.

, Sandy, OR
---
"So Kathy can relate to this one. I make fruitcakes, and use flour sacks soaked in wine plus more alcohol to wrap them. They soak for 3 weeks, then you have to air dry the fruitcakes before you wrap them. Well I am sending you the pictures of what the rags looked like BEFORE I soaked them for about an hour, DURING the soak, and AFTER the wash was complete. I LOVE Stain Solver, because I do not feel I'm leaving behind chlorine in my towels, that could affect the next batch of cakes!! PLUS as you know it is better for our septic system than bleach!
Fa la la la la la --So I guess you need to add a fruitcake video to the library."
Cindi Dugger
Missouri
| | | |
| --- | --- | --- |
| | | |
| Before soaking the rags | During the soak in Stain Solver | After soaking & washing |
---
"Your Stain Solver is awesome. We lent a blanket to my sister-in-law and it came back with a stain that looked permanent. I soaked it in Stain Solver, and it was gone within 1 hour. We are expecting our first baby in March, and I expect, I will be going through the Stain Solver much more quickly, I'm glad I bought the 50 Pound pale." - Robert L., Fort Wright, KY
---
"I purchased your Stain Solver recently, planning to clean my wooden deck. Weather didn't cooperate, so the job got postponed. I found out that it works great for removing underarm stains on my well, and often, worn work shirts.
Wet the trouble area and make a paste of Stain Solver, then it let sit overnight and wash. Magic!! Stains gone and the shirt is still usable!!" - Rich M. in Maryland
---
"Just wanted to tell you how much I love Stain Solver. I ordered three 4 lb jars about 5 years ago - maybe longer. For a long time, I mostly used it for soaking my kids' uniform shirts to get stains out and my husband's grass stained socks or sometimes spot on the carpet. It had always worked great but then my kids didn't have uniform shirts and my husband sold his lawn care business and I sort of forgot I still had a jar left...
Last week I hand washed a jacket made for my daughter when she shows her horse. It's very fancy with lots of crystals and red sparkly leather appliques so I carefully followed the seamstress's instructions on how to wash it. I was horrified to see the red appliques were bleeding like crazy onto the white fabric! It was ruined and had cost more than $500!! I started searching the internet for solutions. While I didn't come across your website, I did see some recommendations to try using Oxy-Clean. That's when I remembered I had something WAY better! I found my last jar of Stain Solver. It had a few small clumps on top but I didn't know that was bad and it still seemed to work GREAT! I used VERY hot water, added the Stain Solver, and scrubbed with a toothbrush. It was amazing. I'm attaching before and after pictures. Thank you!!!!! I'll be placing another order soon." - Michelle F.
| | |
| --- | --- |
| | |
| Before Stain Solver. Red appliques have bled onto white jacket. | After Stain Solver. Red stains have been removed |
---
"Not a question but a glowing testinonial. I received my first order of Stain Solver and used it on our bathroom floor grout as indicated. Now, I consider myself a skptical person (especially when it comes to seemingly impossible task of restoring grout), but Stain Solver worked 100% as advertised!
I'm writing this less than an hour after receiving and using Stain Solver, and can't wait for my girlfriend to get home so she too can wonder at how clean our grout is.
Delighted" - Rich S.
---
Just a quick note to let you know that we used your Stain Solver last week when our 11 year old daughter got sick on our new master bedroom carpet.
We were fortunate enough to have a carpet cleaner, but that couldn't get the stain and smell out. A day later, my wife mixed up a solution of Stain Solver and sprayed it on the spots. After letting it work a while she vacuumed it up with our carpet cleaner. No stain, no smell. Worked like a champ. And to think that I bought it to clean the grout in our powder room.
I appreciate your website and tips. Enjoy your winter. We didn't get one this year.
Steve A. - Batavia, IL
---
"I was able to get in and place my order [for Stain Solver]. BTW, I love the product – it does exactly what it is advertised to do. Our neglected 16 year old deck looks brand new, and our dock that was so sun bleached looks wonderful. Even the kitchen sinks are sparkling! I will never be without this stuff." - Judy M. - Alexandria, VA
---
"Well, holy cow. We received the Stain Solver and used it on our back porch. I had used chlorine bleach on it; used a pressure washer; and fussed a whole bunch; all to no avail. Were we surprised when we applied the Stain Solver and the magic began. I have enclosed pictures for you to see what a great job it did. It's tough sometimes to keep things clean here at the Ocean but this Stain Solver is a prayer answered. The other picture is the reason I tried your product since it was friendly to living things. Thank you so much!!"
- Garnet & Laura, Dagsboro, DE


---
I just had a great
Stain Solver
experience. For over a year, my favorite tennis shirt has had a stain that just won't come out. I got it when I made the mistake of doing some gardening after coming home from playing tennis. I'm not sure what the cause was but it was a long brownish streak going right across the front of the shirt. There's no way I could be seen at the club in that thing! I usually don't care much what I look like (especially while exercising) but I'm often a guest at my buddy's club so I don't want to make him look bad.
This stained shirt had been hanging in my closet unused for over a year. Then it hit me, why not try some
Stain Solver
. I filled a basin with warm water and
Stain Solver
and bathed the shirt in it overnight. Even before tossing it into the washing machine I could see good things had happened. But I was careful to not get to excited since sometimes you can't see a stain when the fabric is wet and then it reappears after drying. Never fear, after a wash and a dry, my lucky tennis shirt is again stain-free and I'll again be sporting it at the club!
---
"Tim,

Problem Solved . . . end of story? I recently purchased a 16-pound container of your product Stain Solver for cleaning my kitchen and bathroom tile although I have yet to use it for that purpose. However, this morning I was at wit's end about another problem I have, a stinky moldy smelling front loading clothes washer that has smelled horrible since I first purchased it a couple of years ago.

Occasionally, I look online for new blogs about the problem and I continue to find literally thousands of people that have the same issue but are also unsuccessful in ridding their washers and clothing of the stink. Like many I read about, I have also used over the counter cleaners, tablets of supposed oxygenated bleach, pure bleach etc. but to no avail. I read where one gentleman was so frustrated that in desperation he tore his front loader apart and found a buildup of mold on the inside of the washer drum.

This got me to thinking that maybe, just maybe Stain Solver would clean my washer. I wasn't aware that it could be used in this manner but after reading the directions I decided to try it. I let the washer drum fill partway on the "drum cleaning" cycle and then turned the machine off so I could open the door without having water spill out. I then added a full cup of Stain Solver and closed the door and waited a few minutes. I watched in total amazement as the washer continued its cleaning cycle and chunks of black and gray matter (lots of mold) was washed out of the drum and floated upon the oxygenated water. After the first cycle I decided to run another cleaning cycle and saw more mold, albeit much less the second time.

Later this morning, I washed a batch of towels that have always smelled musky after normal washes but this time . . . voila, NO STINK! I now plan to use Stain Solver monthly to clean my front loader and I'm so ecstatic that I'm planning to visit as many blog sites as possible to let folks know what I did to solve the problem.

Tim, thanks for the product Stain Solver if it works half as well on my tile, I'll be a happy boy." - Kurt Henderson, Perry, UT
---
William S. of Hope Mills, NC ordered Stain Solver. He told us that in the 1970's he was an attache in Madagascar. He purchased beautiful cotton tablecloths with incredible embroidery. They were used and packed away for 30 years. When they unpacked them they found several stains on the cloth. After 2 soakings with Stain Solver they were stain free and usable once again.
---
"I had a stain I could not fix in my white sink, White Corian about 11 years old. The stain was dark brown. It was from crystals used in a product called Blue Apple. It is used in the fridge to extend the life of produce. I had replaced the crystals and did not notice that a few did not go down the drain.

Tried soft scrub with bleach. Then used your product and the stain was gone in less than 30 minutes. I will use your bleach as long as you sell it." - Kerry L., Salt Lake City, UT
---
"I burnt my teflon pan bad. Internet tips did not work. Started to throw away and go buy another one. Your [Stain Solver] product worked wonders on my grout (like new), I thought I'd give it a try on my frying pan. About 3 tblspoon in hot water in frying pan on stove, with little heat for 2 minutes, and all burnt material disappeared. Just amazing." - Charles L., Jupiter, FL
---
Tim: Stain Solver, WOW! I was using Minwax Pine stain and then Verithane on my daughters floors as she is selling the house and wanted to get it nice and of course I got some of both on my T-shirt. I had washed the shirt a couple of time, but two weeks later when we arrived home, I was going to throw it out but I gave the stain solver a try.

Literally the Stain Solver gets out stain. I had to presoak over night and wash, and do this over again with Stain Solver in both presoaks and both washes, but it came clean. Neither my wife nor I could believe it. Yes I am a believer.

Thank You - Janet and Barney S.
---
"I bought Stain Solver as I read it could clean the stains in tile grout. I had tried everything I knew and nothing worked. I used Stain Solver per instructions and the stains were gone! I was truly impressed. This morning, I used it to clean the built up deposits in my percolator coffee pot. Now the stains were absolutely black, covering the entire insides of the pot. It was almost a question of 'Do I toss it out?' 'Or give Stain Solver a try?' I mixed up some Stain Solver in the percolator and let it sit for an hour. When I drained it out, the build up stains were gone and the inside of the stainless steel coffee looked as if was brand new. My wife now thinks I am a genius.

Thanks again for a great product." - Earl M., Ormond Beach, FL
---
"Hello Tim, Just received our order of Stain Solver yesterday!
We have approximately 1,000 sf of Ceramic Tile on our floors that have not been cleaned for 8 years. (Mopped Weekly Yes, Grouts Cleaned No!)
We are having major re-piping done in our home over the next month so we decided not to embark on a tile joint rehab program right now. But I could not wait to see what this product would do on our "Horribly Dirty, Nasty Grout Joints". So I mixed up a very small amount of Stain Solver and put it on three feet of our very worst floor grout joints for 30 minutes. I used a toothbrush a 3-4 times to loosen the surface buildup and I couldn't believe the dirt & grime release.
To clean up, I simply used clean water & a sponge, and I have to tell you that these joints look like the day they were put in! We cannot wait until the plumbing work is complete so we can tackle our tile floor joints and make our house look new again. By the way, my wife and I are both in our mid-sixties! We were quoted a cost of over $500 to do this work by a national floor cleaning service, but you know they wouldn't clean the joints the way we want. So we figure we are saving at least $400. (We are planning on ordering more, that's why the savings aren't higher.)
Great Product!!
Best Wishes,"
Dave & Jan E.
Henderson, NV
---
"I just wanted to thank you for a excellent eBook on Crown Molding. I just recently made this purchase from your website. What a wonderful on line tool and very easy to follow the directions. I want you to know that I am a rookie at this type of wood working, but your eBook made the job much easier and far less frustrating to complete the job that I was working on. Best part about all of this is that I am completely blind or visually impaired as some might say, but had fun working on this task. While I am very capable of working with selected power tools, the guide made the job that seems to be a serious challenge for many, very possible for me. Thank you for the help..."
- Kevin O'C., Indianapolis, IN
---
"I have no questions but I wanted to let you know how blown away by your product we are. We have a beautiful fir porch that was built 7-8 years ago. We have done nothing to it over those years, and it was so dark and dirty I was worried our neglect had caused permanent damage. We used your [Stain Solver] product over the weekend and our porch floor looks almost brand new. We are so thrilled about this and will recommend your product to everyone we can! Thanks,"

- Molly W., Seattle, WA
---
Jill H. of Easley SC wrote "Stain Solver works Great! I'm so glad I found it before I spent a lot of time scrubbing with borax and baking soda (which sounded like WAY too much work) or spent money on some harsh toxic chemicals that wouldn't bleach out my colored grout. I tried the test run last night on my kitchen tile and wouldn't have stopped cleaning, except it got too late and I had to go to bed. I was trying it on all kinds of stuff in the kitchen, and I can't wait to try it outdoors on the deck. ... Thanks for a truly super product."
---
I received my bucket of Stain Solver and have to tell you that the stuff is scary - in a good way! I couldn't believe what it did for the no-longer-white grout on my office floor ... and I swear it continued to work even after I rinsed it off. It not only cleaned the grout, but took a layer of dirt off the tile that I didn't realize was there. Now I have to do the whole room since there is a big, super-clean square in the middle!!
I also put it to work on some very old pet stains on the beige carpet in the master bedroom ... some of them will require more treatment, and you can see that the carpet is slightly lighter where I treated, but it took out spots that we have been unsuccessful at removing with Resolve, Woolite, and a number of other "stain removers". Now I'm looking forward to trying it on clothing stains............
Thanks ... I will tell everybody I know about this great stuff!"
- Lori B., Gonzales, TX
---
"I love Stain Solver! Hate my white tile floors and white grout. Stain Solver is so easy to use it saved my life. I am 70. Thanks for selling this product! Easy to use and minimum of scrubbing." - Annette D., Tarpon Springs, FL
---
"Tim, we ordered some Stain Solver last week to use on roof algae. I have been looking at it over 2 years wondering how to get rid of it, and came across your product when searching the internet. Today I got up there and worked over 3 large areas using your product, a small sprayer and a deck brush with long handle following the directions provided. About 1-1/2 hours later my roof looked great. Your product was awesome and did just what I was hoping for. 100% satisfaction. Thanks so much!" - Steve G., Bartlesville, OK
---
Ginny E. of Bakersfield, CA called to tell me that she works with antique and vintage linens from Germany. She says it is really hard to remove mildew stains from these items. She had an embroidered tablecloth that got wet and mildewed. She put it in our solution and let it sit for a couple of days. Then she rinsed and washed it.....no more mildew stains and no bleaching of the embroidery!
---
"Oh my gosh - I am amazed. I have tried cleaning my tile floors and grout with a electric scrubber and steam mop and nothing has worked like this Stain Solver . I AM VERY IMPRESSED and I have told all of my friends. Non toxic - no smell or no irritation on your skin." - Meloni M., St. Petersburg, FL
---
"Not a question, but a big thank you for your Stain Solver product. I have tried many products to clean the grout and tiles, but have never seen a product work as well as yours. The grout and tiles look brand new. My neighbors and friends were so impressed they ordered your product too. Once again, my sincere thanks." - Ruth C., Ft. Myers, FL
---
"I am also in awe of this [Stain Solver] product...Yup, it's great, and our ENTIRE home (2400 sq ft.) is tiled, and it's amazing how quickly the grout gets dirty, so your invention is wonderful. I'm so happy that I read the Ft. Myers News-Press on April 3, 2009, and have recommended the product to my sister-in-law. Many of us who live on the water here in SW Florida have tiled floors, so your product is great. My husband remarked how clean the floors looked, and you can imagine how he'll react, once I get the grout looking like new. Perhaps some flowers? Enough accolades!" - Lynn S., Beautiful Alva, Florida on the Caloosahatchee River
---
"I recently used some Stain Solver on some carpet spots, that had not come out for about 8 years. Even professional carpet cleaners could not get the stains out. The carpet is a white pile, and had several old dog urine spots from the previous owner. I used Stain Solver as directed, and sure enough it got rid of the stains. I was impressed." - Glenn Haring, OK
---
"Tim,

Once again thank you for taking the time to address my concerns.

I followed your instruction [for Stain Solver] on a small portion of the floor and left the solution sit for about an hour now - I can actually SEE it working. I'm running to the store in a few minutes and expect when I get back that the grout will be totally clean - the way it's worked so far I don't have much doubt that will happen. "Oh ye of little faith"!!

What a JOY it is dealing with a "vendor" who cares about his customers. I've had nothing but nightmares recently with Sears - therefore your response is even MORE meaningful!"- Barbara, Miami, FL
---
"The customer service is incredible! I emailed a question Thursday evening and Tim responded at 6:30am on Friday. He responded promptly to a follow-on question I had as well. That is almost unheard of in this day and age and greatly appreciated. Please post for others to see. Kind regards," - Judy Groves
---
".......once again, thank you for such quick and honest service. We need more on-line merchants like you!
Sincerely," - Steve Martinez
Worried about buying things online? Read Steve's quote above again. Steve is just one of thousands of satisfied people who have bought things from me safely and securely online for over 10 years!
---
"Hi Tim,

Your product is, by far, the best grout cleaner I have ever used, and I thank you for delivering "the goods" , in more ways than one." - Al L., La Jolla, CA
---
"Hey Tim,

I wanted to thank you for the excellent book you wrote about crown molding. It was my first time trying to put crown molding in my house today. It looked easy until I actually tried it, then I got pretty frustrated. I came across your website after trying to get some help on the internet, and then I saw your book. Your book was the best $20 I could have spent. Within minutes after reading the section on inside corners, I was back at it again making the right cuts the first time! So easy a caveman can do it! The resale value of my house is definitely going to increase now. Thanks again for writing the book - it was a lifesaver!" - Nick A., Kennesaw, GA
---
"Hi, Tim,

Your e-book "Building Simple Stairs" was an excellent guide in building a proper staircase. It was written in a straightforward, easy-to-understand style, the pictures were very useful, and your advice was invaluable. The guide contained tips that saved time, aggravation, and money. There were many suggestions that I don't have in other help books that cover the same topic. I particularly appreciate your advice on building stairs with mortises, adding the 1.5" edge, and using the X-acto knife to mark the mortises. Very clever.

Thanks to your guidebook, we were able to build a set of stairs – with a landing and U-turn nonetheless – and turn an unused attic at an outbuilding at my cottage into a usable loft. We now have an extra place for guests to sleep in two weeks for (Canadian) Thanksgiving weekend!" - Rob H., Ottawa, Ontario, Canada
---
"Hi Tim,

Just wanted to let you know that with your advice to use stain solver and a just a little bit of elbow grease we were able to clean & recolor/seal approximately 300 square foot of grout for a fraction of the cost. We were quoted $650.00 from a professional grout cleaning company. The cost of your Stain Solver, a long handled grout brush (easy on the back for the cleaning part) and the stain/sealer combination came to a grand total of $65.00. We now have a floor that looks brand new for 1/10th the cost!" - Wanda S., Cleveland, OH
---
"I am a new subscriber to your newsletter after finding your website in a search for a problem that I had. I can't remember what the problem was now, but in viewing your website I saw the information about Stain Solver and decided to order some for use on a deck.
A few days after it arrived, my husband dropped a plastic half-gallon container of cranberry grape juice on the ceramic tile in the doorway to the kitchen. The lid broke and the juice -- about half the jug -- shot across our light beige Berber carpet. We soaked up as much of the juice as possible with old bath towels. I then saw the Stain Solver box sitting on the counter, so I decided to mix up some and try it. I poured the solution liberally on the carpet, worked it in with the back of a large spoon (so as not to damage the carpet fibers), then vacuumed it up with our shop vac. I did this several times and was amazed that the carpet appeared clean!
In the morning there was a pink cast to it, however, so I repeated the process and this time also tried a hint that I found on the internet. I put paper towels on the cleaned wet spots, then a bath towel, then plastic wrap, and then heavy books. I left it that way overnight, then removed it. The stain was gone. The last procedure helped to wick the remaining stain up out of the carpet and into the paper towels.
I never expected anything to take that huge deep purple-red stain out. Your product has paid for itself a hundred times over in saving me from having to recarpet my condo." - Karen V., Woodbury, CT
---
"I received my order Thursday afternoon. My kitchen tile floor is disgusting. We have light/medium brown grout in between, but this had gotten super dark brown and I couldn't stand it anymore. Some areas that didn't have heavy traffic, still had the original color that it is suppose to be. The heavily traffic areas were awful.
I was going to hire someone to come out and steam clean it, although I didn't know if that would work. I just refused to scrub that floor. I would have an awful backache. I told my husband, I'm done cleaning this floor. No more.
I used the [Stain Solver] product, took extra powder and water just to get the first grout layer clean. I flooded my kitchen with the solution and let it sit as long as I could - one hour. Then proceeded to mop up the mess I made. We had company coming in Saturday. The floor looks 98.9 percent better. I plan on re-doing the whole floor one m ore time. Like I said, it had gotten real bad. Now every time I mop my floors, I will use this solution to clean with.
Thank you again. I will let you know how the next application makes my tile floor look." - June H., Jacksonville, FL
---
"Hi there. I thought you would like to see this. I washed my childens' clothes in the washing machine. Somehow, a pink crayon got in and stained all the clothes. I didn't notice until after I got them out of the dryer. I decided to soak them in the bathtub with Stain Solver to get the stains out. The picture you see is the water after removing the clothes from the bathtub. This is all of the dirt out of the freshly "clean" clothes. It is so gross to see how much dirt my regular detergent left behind.

Sincerely," - Amy Georgeadis, CA
---
"I purchased six pounds of your Stain Solver almost a month ago. I cannot believe how great this stuff works. (I will eventually send you some pictures once my daughter shows me how!)
I did my mom's deck first, it has been much neglected and had a lot of mildew/algae built up on it. She is 77 and I was worried she may slip and fall on it because it was quite slimy when wet. I showed up with my rag mop, bucket, long handled scrub brush and the piece of resistance (imagine a French accent) - Stain Solver. Both my mom and my sister gave me a look like why are you wasting your time, why didn't you bring the pressure washer? I told them to just go about their business because I did not need any help and that they would both be surprised to see the results. They did not act to enthused until they, like me, saw the first few boards. After I had let [the Stain Solver] sit for 10 minutes, it was like brand new wood.
I could smell the mildew/algae as I scrubbed with my brush, it just like melted off the wood. I told my sister to come up and see the results in just the little area I had scrubbed. She was amazed. She stayed right up on the deck and was like - "What can I do to help?" I couldn't keep her away from my bucket of Stain Solver. She was like "Do you think this would work on the grease stains on the garage floor? Could I use it on this or that…..?"
Both my mom and sister were so happy that it didn't hurt her plants around the deck. I'm bummed because I used almost all of it on their deck and now I won't have enough to do mine. I also wanted to tell you what else I used it on, my bird bath. It was very nasty and slimy. I sprinkled a little in and filled it with water and let it sit for maybe 20 to 30 minutes. I scrubbed a little with a brush and rinsed it very well. It looks brand new!
Well the main reason I am writing is I need to order ... the 12 pounds and use my coupon. ... Thank you." - Pam P., Traverse City, MI
---
"I was very pleased to not only receive the EBook on cutting Crown Moulding but to also get your explanation of what happened when I ordered it twice and a refund for the second order... There are still good honest people out there. Impressive. I have had a chance to quickly read through Tim's book and as a long time DIY'er was impressed. I have never had the chance to work with crown as yet but our latest renovation project has lots, so I am eager to get at it now. Thanks again for the honest... and prompt... service." - Glen A., Alberta, Canada
---
"WOW, that's all I can say! I purchased your product last week to clean the grout on my 800 sq. ft. of tile, and it looks as clean as the day we moved in eight years ago. I must admit, I was a little skeptical when I ordered the Stain Solver, but after having used it, I know I will always have some on hand and look forward to cleaning my wood deck this spring. This is by far one of the best products I have purchased in many, many years. Thanks Tim!" - Ed, M., Michigan
---
"Thank you for sending me the Room Addition checklist. I read through the document, and it's quite thorough.

I know that this will be a useful and valuable document for me." - Fredia J.
---
"I bought Stain Solver for the grout on my bathroom floors. Wow! I have tried numerous products to clean the everyday dirt, but nothing brought my grout back to its original white color. Stain Solver did the job, and I was amazed. Thanks!

Place your right hand on your left shoulder, and your left hand on your right shoulder...squeeze. There, you've just had a hug from utvandymom! Have a great day!" - Margaret from Tennessee
---
"Thank you, Tim.

I used your (Walk Thru) checklist for the condo I plan to buy and really surprised all involved. They had only allocated 30 minutes for my walk through since it's just a condo, but I kept them there longer and feel much better. There were only a few things that need attention but I would have never noticed them if it weren't for your packet. So, thank you.

All the best," - Holley S., Nashville, TN
---
"This is what I call CUSTOMER SERVICE !!!!!!!! In today's business the customer is not often treated with respect, so I was surprised by your quick response. Thank you." - Bill L., Stoney Creek, Ontario
---
"I bought some Stain Solver and am I glad I did! My son just returned from 10+ days of hiking at Philmont (Boy Scout high adventure camp in NM) and his yellow crew shirt was disgusting and so stained (hand washed maybe 2x in 10 days) I really thought it was a goner. It took two 6-hour soaks and then a washing through the washer, but it is now wearable and my son is ecstatic! What an incredible product! THANK YOU!!!" - Carmen D. - Posted in Facebook
---