Shipping Times
Note: Yes, we do ship Stain Solver to our Northern Neighbors in Canada! However this map only covers shipping times for the lower 48.

Orders received at the Ask the Builder are typically packaged and placed for shipment the next business day after the order is received. We do not ship on Saturday, Sunday or the major US holidays.
Additional shipping details can be found on our Shipping & Returns page.
We can ONLY ship Ground. It's illegal for us to place Stain Solver on airplanes. This means we can't do overnight shipping or any other expedited way other than Ground. Sorry, we don't make the rules. We can only ship Stain Solver to the contiguous 48 United States and Canada.
The following map is courtesy of UPS. It indicates the estimated ground transit or shipping time, in days, from the midwest Stain Solver distribution center location to the lower 48 states.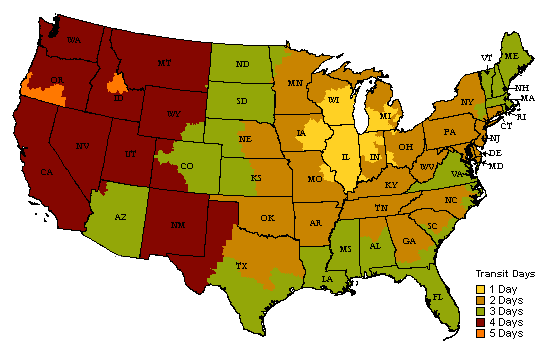 This map is an estimate of UPS Ground transit times in business days to the lower 48 United States. UPS does not delivery on Saturday nor Sunday.