These are the last five customers to purchase this product:
Cleaning and sealing a deck is easy, right? What could go wrong?



Click here to preview the first 10% of this eBook.
Would you be upset to discover you ruined your wood deck with that pressure washer? Would you be shocked to see your deck turn white after it dries? Will your wife send you out to live in the doghouse because you killed all her plants around the deck? Will you be upset when the sealer fails in one year? I thought so.

Tim Carter, Founder of www.AsktheBuilder.com, describes in this eBook the time-tested methods to safely clean a deck, no matter what type, and he shares what he feels are the best sealers to use. With decades of deck-building and deck-maintenance experience, you know that you're getting the best advice.

Included in this eBook are several videos and high-resolution photos that should help you ensure your project is a success. It's important that you save both time and money.

Perhaps the most interesting part of this book are the over 75 real questions from homeowners like you that Tim answers in great detail. This book could very possibly contain the exact answer(s) you've been searching for.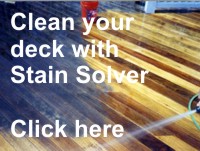 This eBook covers:
Chapter One - Deck Care Overview
Chapter Two - Ultra-Quick Start Guide - The Basic Steps
Chapter Three - Types of Deck Cleaners
Chapter Four - Types of Deck Sealers
Chapter Five - Types of Deck Lumber
Chapter Six - Deck Cleaning and Sealing Tools
Chapter Seven - Cleaning a Deck
Chapter Eight - Sealing a Deck
Chapter Nine - Miscellaneous Deck Factoids
Chapter Ten - Homeowner Questions and Answers
Resource Links
After reading this eBook, you'll agree that in the past you made mistakes. But those days are now over. You're guaranteed to discover all sorts of things about deck care you never knew before - things that will save you time and money for sure. And with deck sealers easily costing $30 or more per gallon, you can't afford to make a mistake. Buy this eBook now, you'll not regret it.
This eBook is an electronic document that is available as an immediate download once your order is processed. After completion, you will be take to a page with a download link for the eBook file. The downloaded file will be in PDF format which can be read with the free Adobe Reader software.

We are so confident that you will enjoy and benefit from this eBook, that we guarantee your satisfaction with our no-hassle, no questions asked return policy. You have nothing to lose.