These are the last five customers to purchase this product:
Discover Defects Before You Close on Your New Home!
Will you catch all of the flaws in your new home during the walk through inspection? Your builder can leave you with all sorts of nightmares if you don't do a thorough inspection.
If you think those FREE or less-expensive checklists, you and I have seen on the Internet, are going to help you, stop reading NOW! And while you are doing your inspection with those products, keep repeating this:
"I GOT what I PAID for. I GOT what I PAID for....."
And a year from now, when three or four defects surface, AFTER your warranty expires, repeat those same words.
Do you want a powerful tool that will allow you to uncover flaws and mistakes today and act as an important benchmark one year from now just before the warranty on your house expires? If so, you need my Walk Through Inspection Checklist. The best part is that it can be yours just minutes from now.
This checklist contains over 215 checklist items. Each item needs to be inspected to make sure you are getting what you paid for. The checklist allows you to protect thousands of dollars of your money. Once completed, you have a written record of the condition of your home before you close on your new home loan. The checklist allows you to quickly identify:
flaws
mistakes
poor workmanship
hard-to-spot defects
---
HOW WOULD YOU LIKE?
Over 215 detailed checklist items
Additional written tips that help you maximize the power of the checklist
Professional Home Inspection Association listings in case you decide to have a professional assist you
A download link once the order is completed
---
Below is a screenshot of some of the questions from the Foundation Section of this Checklist.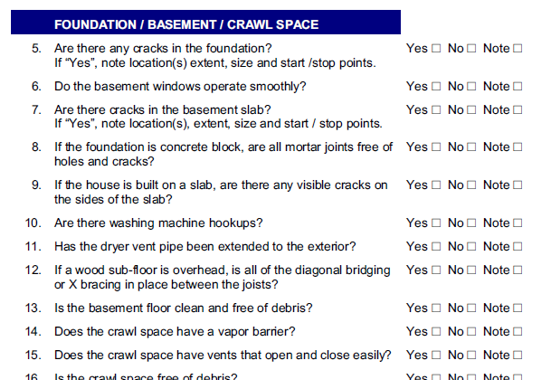 The Checklist is available to you as an immediate download (PDF file format) once your order is processed. After completion, you will be taken to a page with a download link for the Checklist file. In addition, you will receive a confirming email. In the Cart Items section of the email, there will be a download link. Just click on the link and the Checklist will be downloaded to your computer. The downloaded file can be read using the free Adobe Reader software.

We are so confident that you will enjoy and benefit from this Checklist that we guarantee your satisfaction, with our no-hassle, no questions asked return policy.
---
Reviews
Here is how it helped Ethan Chamberlin:
"Thank you very much for the Walk Through Inspection List. It was invaluable. Using the list, I found 40 items that need to be repaired/completed before I make my final payment to the builder. The checklist is well worth the money. Thanks again!"

If the defects can't be cured before the closing, you can request that the bank withhold an agreed to sum of your money until such time as you are satisfied. I guarantee that the checklist will help you find flaws in your home that you might have overlooked! It worked for Ed Jendon. Here is what he told me:
"I purchased and utilized your checklist for the walk-through inspection of our new house. The number of items in the checklist was incredible. It saved both myself and the builder a lot of time."
---
Holley S., Nashville, TN, sent this email ..
"Thank you, Tim.

I used your (Walk Thru) checklist for the condo I plan to buy and really surprised all involved. They had only allocated 30 minutes for my walk through since it's just a condo, but I kept them there longer and feel much better. There were only a few things that need attention but I would have never noticed them if it weren't for your packet. So, thank you.

All the best,"